A century-old trading cargo ship, MS Hans, was converted to live-aboard and hosts the development of Dgen projects.
She now lives at the cooperative harbour Hermitage Community Moorings (HCM).

HCM is the first licensed residential development on the Thames in over 100 years and was constructed from scratch as a cooperative to meet the needs of its occupants. The coop works by having shared infrastructure (bridge, pontoons, shared building for events, water, energy, internet) while each vessel is owned by its occupier. It is a condition that vessel owners are members of the coop and that they live aboard and are active members of the community.
There are many practical benefits of a cooperative model. For example, we recently installed 23KW of solar on the shared community building to reduce the cost of energy for the whole community; on a smaller level we all learn and can assist with the infinity of DIY tasks, boat knowledge; on an important level we help each other with sailing (sometimes going out as a fleet for a long weekend). The primary benefit, however, is social: we are a community of like-minded individuals who have come together to build a collective vision.  
M/S HANS
IMO No 5141938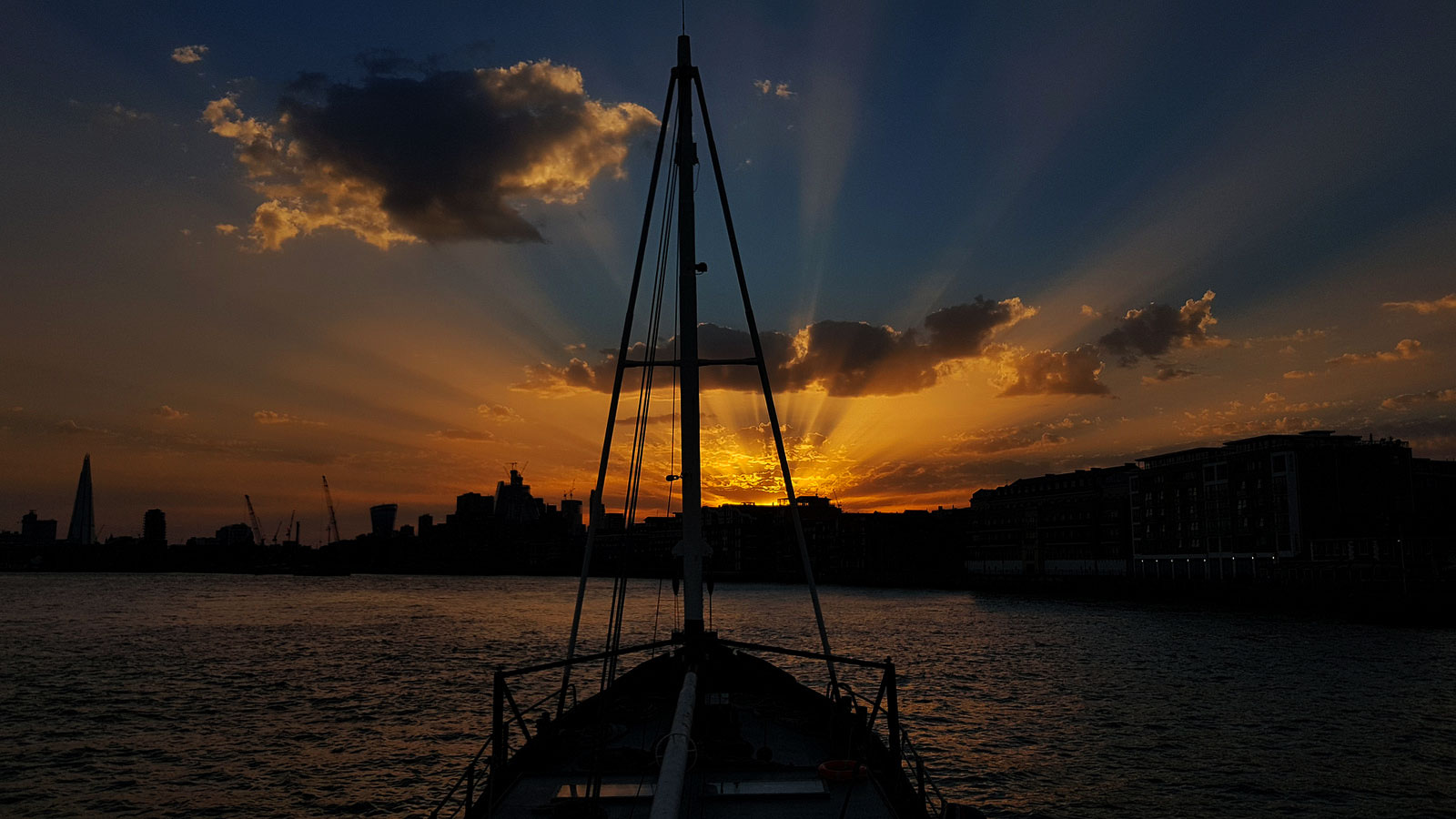 Classification: Motor Ship
Type: Norwegian coaster (coastal vessel)
Hull: Steel, double-ribbed
(can sit in ice and not be crushed)
Built: Amsterdam in 1916
Trading history: 1916-2001
(around Norwegian coast)
Converted: 2004-2009
Status: live/work aboard
Location: HCM, Thames, London, UK
Gross tonnage: 125 tonnes
Nett tonnage: 71 tonnes
LOA: 110ft (34m)
LWL: 100ft (30.48m)
Beam: 20ft (5.98m)
Draft: 5ft (2.12m)
Air draft: 38ft (11.6m), 32ft from deck
Capacity:
Fuel: 3,000L diesel (660 imperial gallons)
White water: 3,000L
Black water: 1,000L
On-board electricity generation:
Water-cooled generator
Air-cooled generator
High capacity battery/inverter
24v +12v circuits (AC & DC)
Floor space: ~1,600 sq ft (140 sq m)
Systems:
Deck gear: 2-tonne hydraulic winch/crane
High-power searchlight
Breach & flood sensors and alarms
Radar
2x GPS + autopilot
Sensor/monitoring systems
Micro-datacenter: TB+Gb
3.8kW 10-channel sound system
48-track recording studio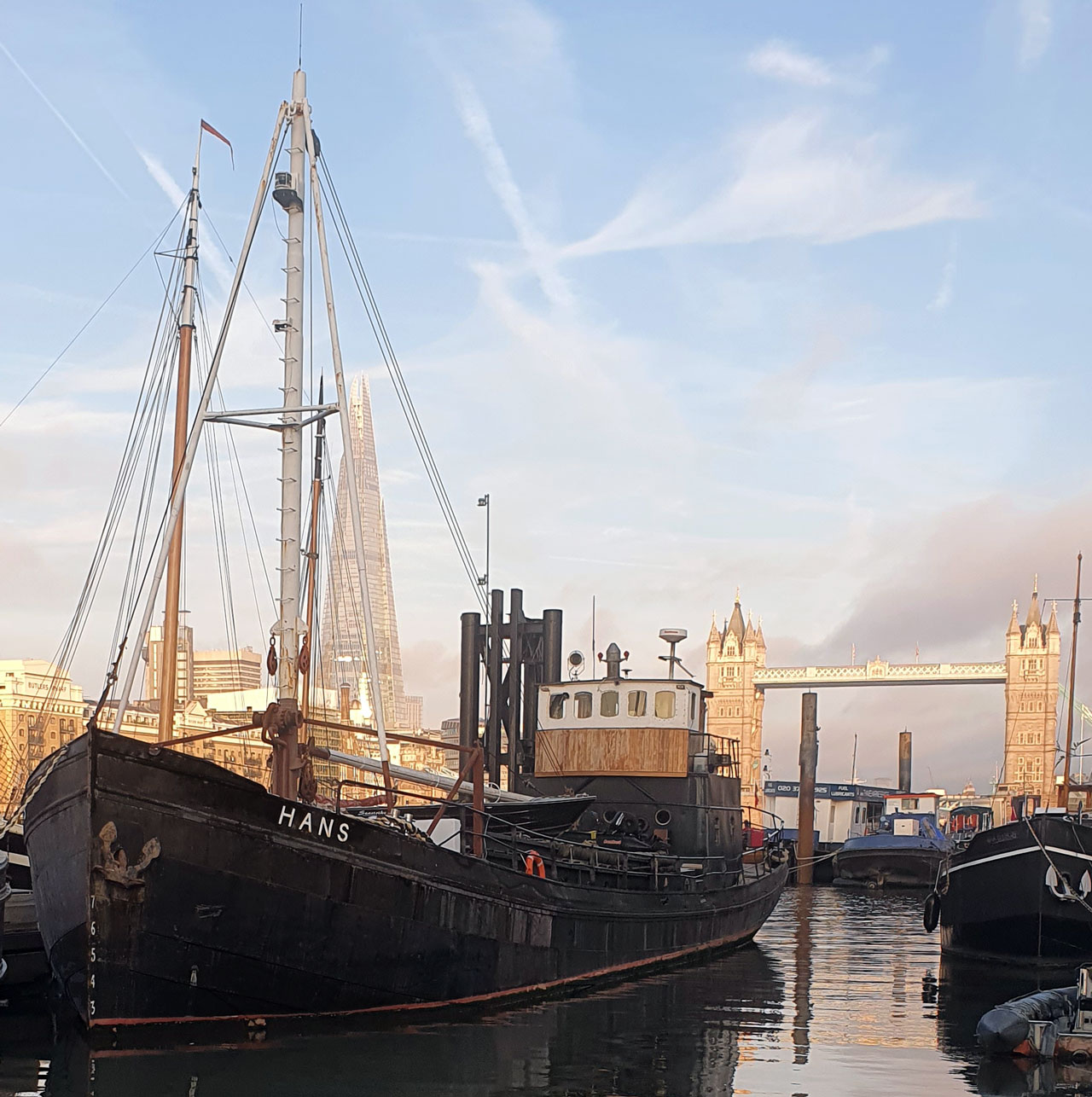 History
Built in 1916 by G Muller in Amsterdam, Groningen, Netherlands for Ganger Rolf. Constructed under the Det Norske Veritas (DNV) Classification 1A1 + K as a Steamer trading on the coasts of Norway, Russia and Denmark, and on the West Coast of Sweden.
Built of steel riveted onto angle frames this ship was the last small coasting vessel of her size to work in Norway. She operated carrying commercial cargo from 1916 up until July 2003 a total of 87 years.
Originally fitted as a twin hatch coaster with a centre derrick and an exposed helm aft and a small two-berth cabin for the crew, the outline of this cabin can still be seen with the iron banding and scupper lips around the lower accommodation.
She was later converted with a small aluminium steering shelter aft of the accommodation, this is the small square structure aft of the crew cabin that now forms the entrance to the machinery space, the location of the side windows can still be seen in this structure.
The existing upper works were fitted in the 1960s when she was converted to carry grain as well as bulk cargo, just forward of the wheelhouse were high grain silos extending to under the bridge windows. It is thought that at this time she was converted to a single hatch vessel with a forward mast and derrick.
The present layout is typical of the Baltic Traders working the Scandinavian countries for the last fifty years, with the high wheelhouse aft and the "A-Frame" mast and derrick for working cargo.
Originally fitted with a Union 2EX two-cylinder slow-speed diesel engine, this was replaced with a Scania DSI 14 VEE 8 engine, this was also then replaced with the current engine, a Scania DSI 11 fitted in 2000. This is 310 horsepower straight-six, turbocharged, inter-cooled diesel engine, driving a Hundersted propeller with a fixed pitch through a twin-disc gearbox.
The large bore pipework running to the cargo handling gear on the foredeck is characteristic of the low-pressure hydraulics often found on these Scandinavian vessels, these hydraulics are driven from a gearbox on the for'd end of the engine and give smooth almost silent operation of the cargo winches unlike the high-pressure hydraulics used today.
Hans worked for cargo on the western coast of Norway, with grain silos aft and with a dry cargo hold forward. The grain silos were removed and the deck welded over as she went into the building material trade, running from Stavanger to Bergen twice a week loading and discharging her cargo with her own derrick and two crew.
From 1960 until July 2003 Hans was owned and operated by the same family, by John Torkilson and his son Jarle, with Jarle purchasing the vessel from his father in 1996 when John was past retirement age and no longer allowed to hold a skippers ticket, with them reversing their roles of skipper and mate when the ownership transferred.
John did his last trip on Hans at the age of 78 doing the delivery from her home-port of Mosterhabn to the southern Norwegian port of Egersund for the onward delivery to Maldon.
In 2003, as she was becoming economically unviable, she was replaced by a larger vessel.  Her future was uncertain and was she going to be sold to be broken up to reuse the machinery and equipment in a more modern vessel. However, she was bought by J M Dines Marine Services of Downs Road Boatyard Maldon Essex for conversion into a support vessel for film work. Due to a change of rules regarding the age of ships under the British Register, this work was halted and the vessel sold.
Post-sale, conversion was continued and Hans has been transformed into a live-work home: maintaining the exterior maintained from her last days in trade while converting the interior into a workspace, studio and family home with modern services. All conversion work has been done in alignment with the Barcelona Charter for historic ships. She is currently berthed at the Hermitage Moorings cooperative on the Thames in London.

With continued attention to the physical structure and shape of the hull, and the internal framework (which gives these vessels their strength), Hans is still a fully navigable vessel and expected to live on as a live-work space.