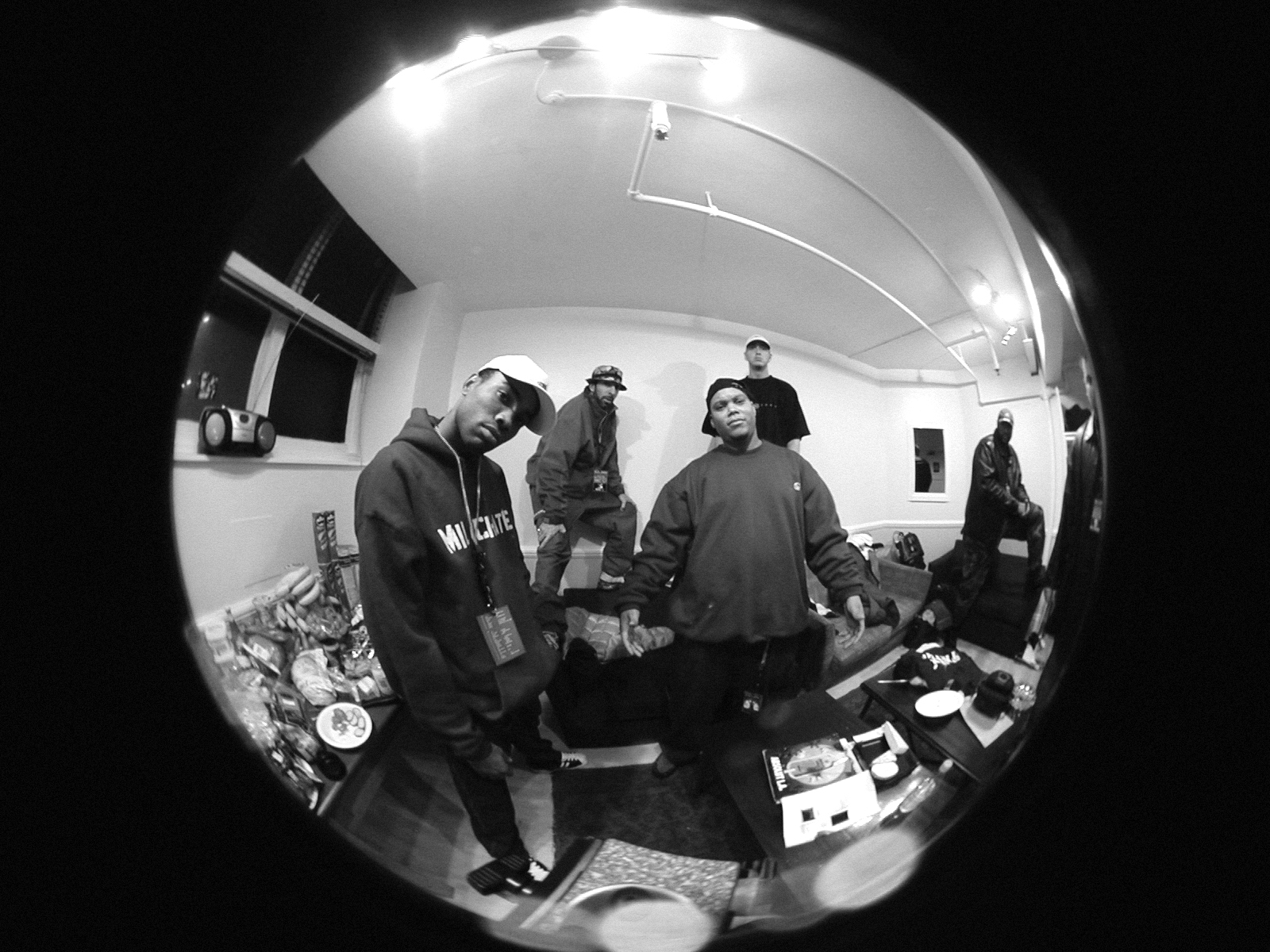 [Eminem & crew at the Astoria]
Over the years I've run a lot of webcasts (from being the tech infrastructure, to behind the camera or mixing desk, to running the music & streaming at Virgin Net, to creative director, to running my own companies).
I've tried to catalogue them all here for reference (and to remind myself). While a lot it is media-based, some of the more important work included UK Prime Minister Tony Blair's announcement of the Iraq war for Number 10 (before the news was released to the media) and Morgan Stanley's disaster recovery webcasts after 9/11.
Even before 'streaming' existed as an idea, I was involved in what we called 'real-time audio over the internet' in 1992-1994 at Glasgow University music department. We had a network of 40 NeXT machines across three sites which I helped run, as well as doing my own virtual reality audio tools.
After joining Virgin Net in 1995, I put the first live simulcast (concurrent to FM) webcasts online for UK radio stations;
Virgin Radio (1996)
The first service of its kind in Europe (1995 beta, 1996 launched). In 1997/98 we added a feature where people could listen to the Chris Evans show on-demand after the live show – it's now called podcasting.
Classic FM (1996)
Kiss FM (Kiss 100) (1996)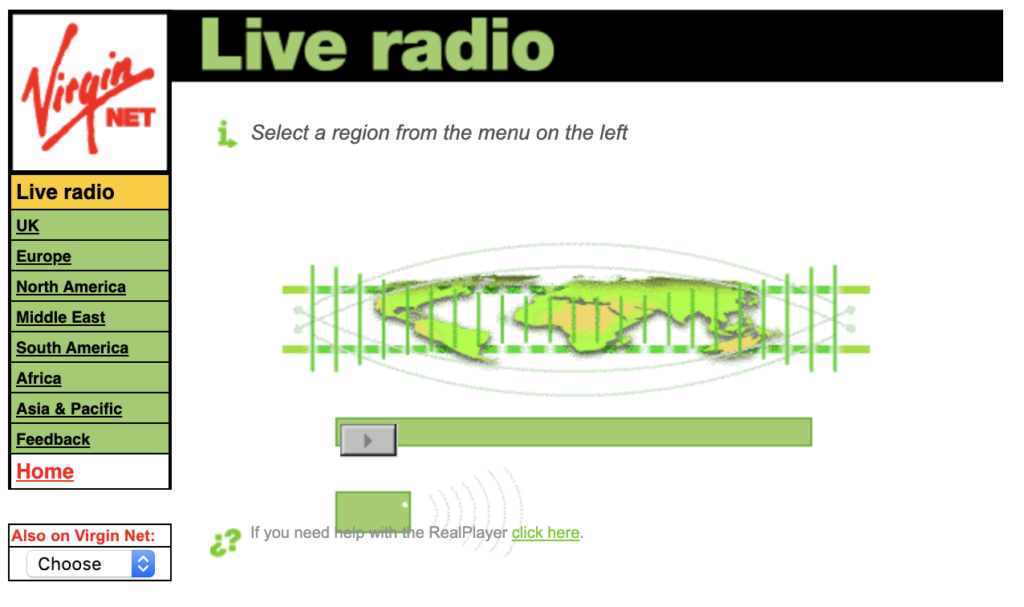 This laid the groundwork for creating and launching the "streaming radio tuner" on Virgin Net in 1997, where we created (contractual and web) links between Virgin Net and over 30 stations worldwide (from Brazil to Australia) – it rapidly became the second most popular service on the site and generated a lot of international interest. In 1998 we added our own web-only streaming station "Release Radio", which I later set up as the first web streaming service available on a mobile handset on Virgin Mobile (1999).
---
Live festivals including (directing, producing, sourcing, managing and implementing):
Talvin Singh, Courtney Pine and Cleveland Watkiss at the Vibe Bar, Brick Lane (1996)
I believe this was one of the first live concert webcasts in the country – we had about 300 listeners to the 20kbps audio stream. I like the fact that, twenty years later, I was still streaming from Brick Lane (RinseFM was opposite the Vibe Bar until 2016).
NVA Virtual World Orchestra at The Old Fruitmarket, Glasgow (1997)
An amazing early stage live webcast performance with collaborative composition and audio from over 100 countries blended into the live performance, and Stelarc physically connected to the web.
Tibetan Freedom Festival in New York (1997)
Dodgy live from the Brixton Academy (1996)
V97 and V98 music festivals (1997, 1998)
V97 was audio-only, as streaming video wasn't up to it then. We also added a whole backstage chatroom, so the bands came off stage, straight into the online chat.
For V98 I added video of the backstage chat (online video rights were a non-starter then), and we had a roving crew going around the audience with a Nokia 9000 Communicator that we'd installed the chat software on – so the fans could chat directly to the bands. Green Day trashed our cabin at one point and Iggy Pop *really* didn't get it – we had to have someone else type for him and be creative with his answers (which were mostly "what the f* are people doing here?").
My personal favourites were the live webcast shows of NTK from the Global Cafe in Golden Square, and WebShack on Dean Street in London.
We also built our own little 'TV tuner' — seems quaint now.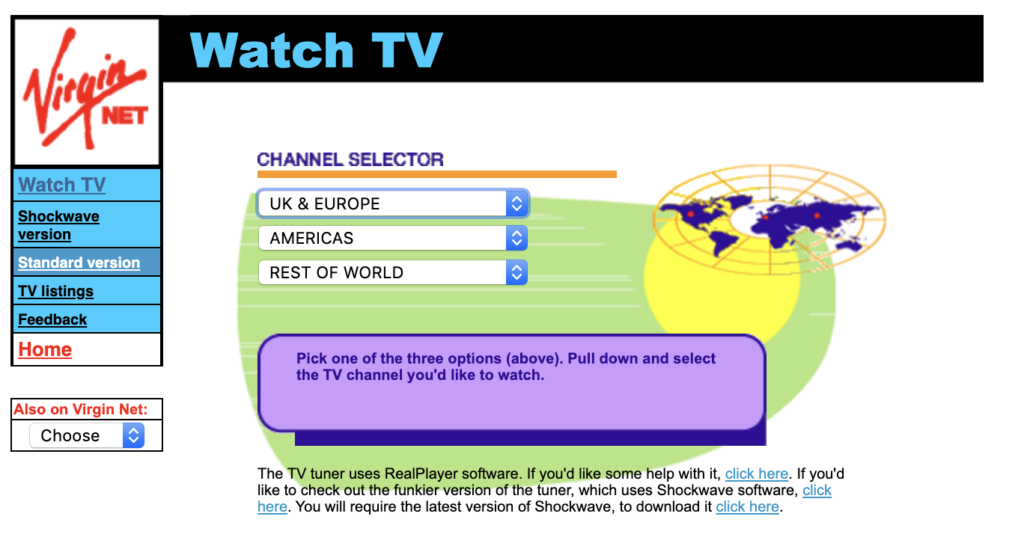 In the middle of all this lot, I helped to create the European Chapter of the International Webcasting Association.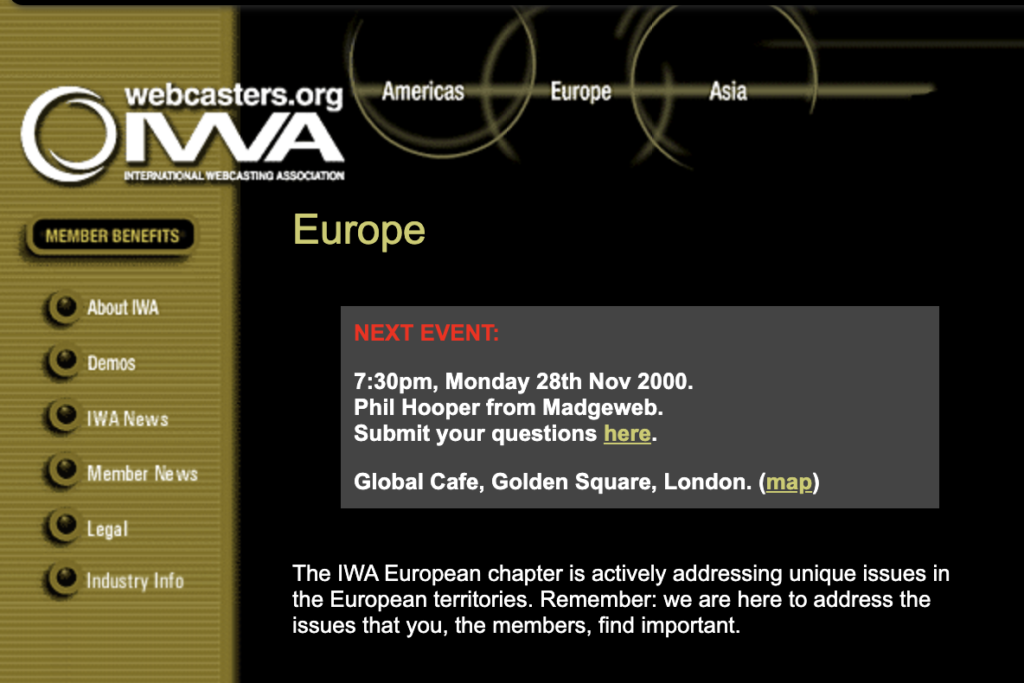 Webcast-chat
Working with the Virgin Net community team, we really pioneered the idea of "webcast chats": blending webcasting and celebrity chat formats in a whole range of different ways. From formal TV-style interviews with 3-camera shoots to Brian May sitting in front of a laptop with a battery-powered guitar…
After Virgin Net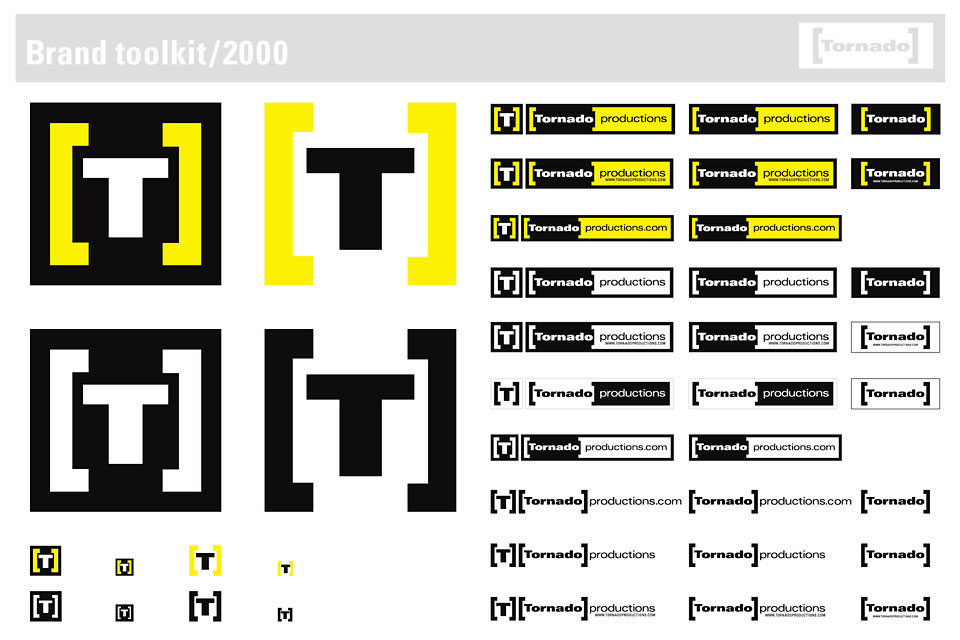 After leaving Virgin Net I set up (my first startup) a streaming company, Tornado Productions, which I sold in 2003, but kept on streaming "special projects" (e.g. ResonanceFM, Undercurrents and IFIwatch) and still do (e.g. RinseFM).
At Tornado, we ended up putting all of Emap's stations online (including Kiss100 and 13 other UK regional radio stations). We then took on board the iconic festival webcasts for Glastonbury (from 2001-2004) for Playlouder and the BBC, and Reading Festival (including AOL backstage tent). Glastonbury won the "Best use of Broadband" award in the UK in 2001, and we grew the weekend audience to about 700,000 over the years I was involved (until the BBC took it back in-house).
In addition to festivals I also led webcasts with;
And this rapidly expanded into non-music webcasts, including
And then a raft of corporates
Logica & CMG (merger announcements, and end-to-end corporate communications)
Shell Plc (end-to-end corporate communications)
Rolls Royce (internal communications and masterclasses)
Old Mutual bank (corporate communications, annual results presentations)
The Royal National Institute for the Blind (utilising voice recognition to make searchable archives)
Merrill Lynch (consulting and executing on communications strategy)
Cisco Systems (producing global video webcasts for their IPTV networks)
Christian Aid (enabling global reporters to self-publish video easily from any location, in 2001)
Tate Modern (pioneering indexed, searchable video in 2002, using DreMedia/Autonomy)
Tornado built a formidable reputation as the most trusted vendor in the sector.
Yahoo! Broadcast: "Tornado is a professional, experienced entity and a valued partner".
Emap Plc: "I would recommend them to anyone undertaking a project involving streaming media of any size".
Loral Cyberstar (a space & satellite company): "Tornado processes, staff, technology and above all customer focus all operate at the highest level". I like that actual rocket scientists thought we had good processes.
Definitions: a bit on tech & media language
From about 1996, I defined a webcast as including audio and/or video, plus images/photos, plus editorial, plus some kind of user-engagement (e.g. chat) around a specific event. Webcasting has been superseded by live streaming as a more popular term (although streaming actually just describes the technology). You can stream on-demand too, which is more efficient and manageable if you have high-bandwidth capacity needs (e.g. video) — as just providing uncapped downloads can spike out your network and create a terrible user experience.
Most media should/will be streamed given the continuous trends to high bitrates/quality and the need for scalable network management. Streaming tries to match the quality of delivery to the available network capacity in realtime (for example, if your bandwidth drops, the quality goes down), and doesn't store the "file" locally: the music or video data is received, played and thrown away.
Webcasts are usually a live stream, with a strong on-demand (archive) component (streamed and/or downloadable). Depending on the event, 90% of the audience will be on the live piece, or 90% will be on the post-event on-demand output. For big music events it's usually 50:50.