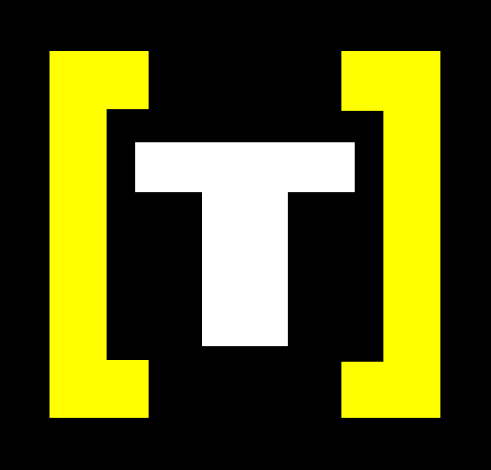 "Combine the intelligence of the Internet with the power of Broadcasting"
I founded Tornado Productions in 1999, combining exceptional technical and creative people.
Tornado helped pioneer some of the common formats now seen in internet broadcasting (aka webcasting – see here for more history) around the world: from multi-format video/audio slidecasts + chatrooms, to 1-minute "daily lifestyle soaps" which are very similar to what you get on YouTube/TikTok (neither of which existed at the time). We worked across music, sport, lifestyle, documentary, education, advertising, and corporate communications, providing creative (design, video, sound, and production) and technical (coding, hosting, and network) support. It was ridiculously ambitious, and a lot of fun.
Clients included Shell, Rolls Royce, Cisco, Yahoo!, UpMyStreet, Penguin, Channel Four, BBC, and Tate Modern. We sold to Servecast in 2003 (Servecast was then acquired by Level3 in 2007 for £22m in cash).
Tornado provided services for a very diverse range of clients, including;
Logica & CMG (end-to-end corporate communications, including their merger)
Shell Plc (end-to-end corporate communications)
Rolls Royce (facilitating internal communications and masterclasses)
Emap Plc (streaming Kiss100 and 13 other UK regional radio stations)
The Royal National Institute for the Blind (utilising voice recognition to make searchable archives)
Merrill Lynch (consulting and executing on communications strategy)
Cisco Systems (producing global video webcasts for IPTV)
Christian Aid (enabling global reporters to publish videos easily)
Tate Modern (pioneering indexed, searchable video)
IPIX (pioneering spherical photography and spherical video)
Penguin, Random House (creating "podcast" vehicles to market audiobooks
Music events including Glastonbury (broadband webcasting from the Festival to 700,000+ viewers), Eminem, and many, many others
Tornado always broke new ground in combining design and technology into usable communication. It provided real solutions to its clients, won business from companies 100x its size, and kept them. Its most "important" work included webcasting the UK Prime Minister's announcement of the Iraq war for Number 10 (before it was released to the media), and Morgan Stanley's disaster recovery webcasts after 9/11.
TESTIMONIALS
"Yahoo! has found Tornado's services to be top-notch. Tornado is a professional, experienced entity and a valued partner",
Yahoo! Broadcast
"I would recommend them to anyone undertaking a project involving streaming media of any size".
Emap Plc
"Tornado processes, staff, technology and above all customer focus all operate at the highest level".

Loral Cyberstar
Tornado raised £750K in March 2000, grew its revenue year on year by ~50% and sold to Servecast Ltd in 2003 having carried out hundreds of webcasts, development and production projects, to millions of people.
Tornado's branding and design, led by Adrian Philpott, won D&AD recognition as "Best of British Design".
[2002] Channel Four, Sky Sports, Arena Leisure
attheraces was a £300m venture between Channel Four, Sky Sports and Arena Leisure. With the remit to address "all platforms" (including TV, print, PDAs, mobiles and the web), Tornado created all its visual branding materials. The brand mark won D&AD recognition for "Best of British Design". David Brook, Director of Strategy and Development Channel Four commented, "Tornado's understanding of the brand we are creating was way ahead of the competition. We have built up an excellent working relationship in a short space of time and have created a truly original and compelling identity which will help to move the sport of racing forward across the globe."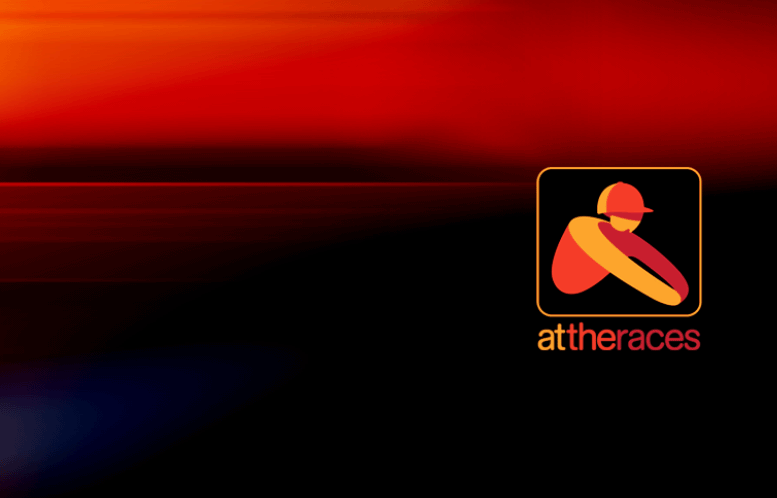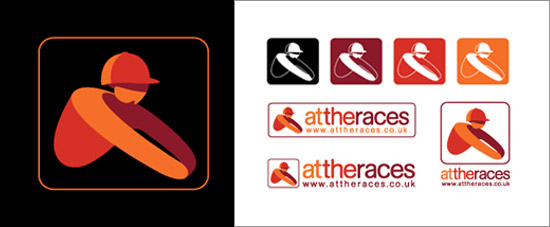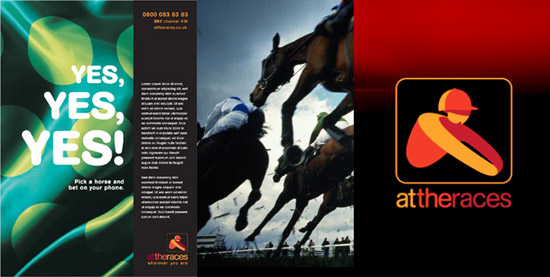 [2001] BT OpenWorld "demonstrate the potential of broadband"
Tornado branded, designed, filmed, edited, coded and delivered an interactive music fanzine, codenamed: "Zinestream".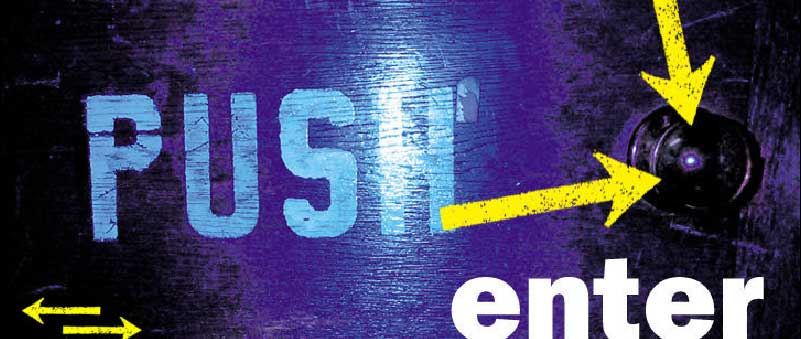 [2002] Logica CMG
Having webcast all CMG's AGM and interim announcements, Tornado was chosen as the provider for their merger announcement with Logica. Tornado provided the end-to-end solution including design, staging, sound, lighting, filming, satellite links, webcast production, streaming hosting, website creation and registration management. Yes – everything.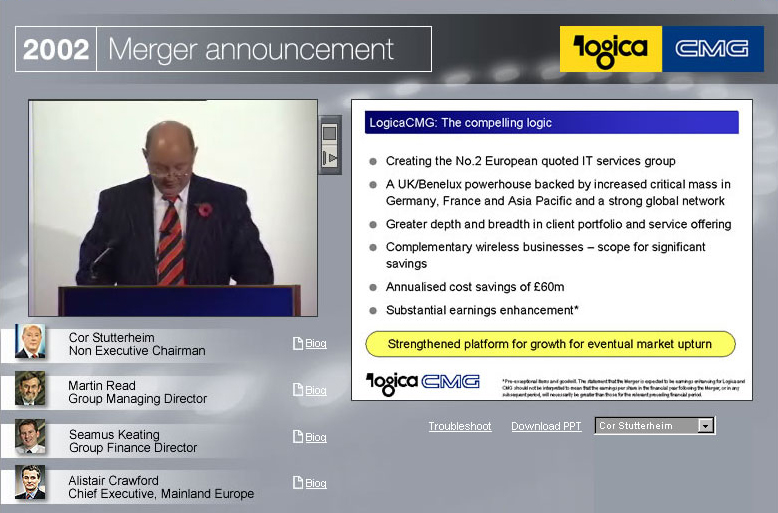 [2001] Tate Modern
A method of presenting and cross-linking of hundreds of hours of interview footage. Tornado created the format, added cutting-edge voice recognition natural language search to make the video content searchable, designed and built the solution.Honor Harger Webcast Curator at Tate Modern commented, "Tornado's combination of technical and design expertise is exceptional."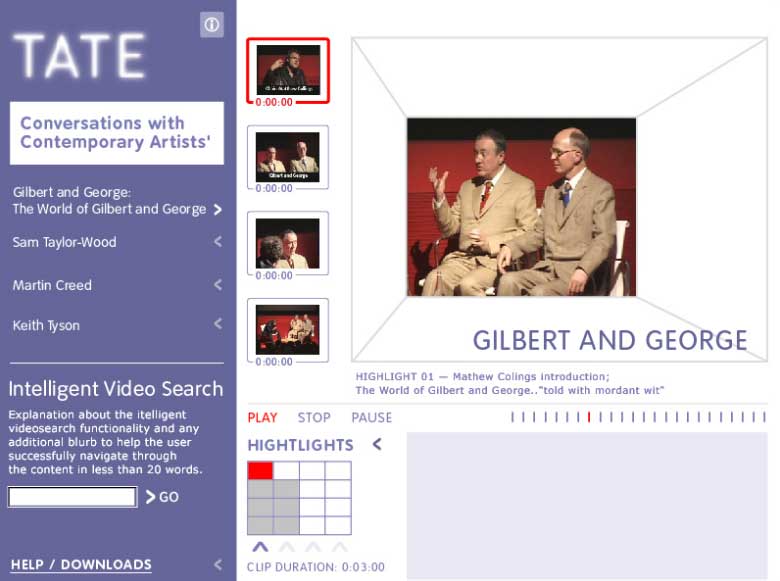 [2003] Shell Group corporate communications 
The Annual General Meeting webcast, linking multiple territories, satellite feeds, phone-in and live audience questions.

The events attracted a broad range of viewers from investors and shareholders to the general public.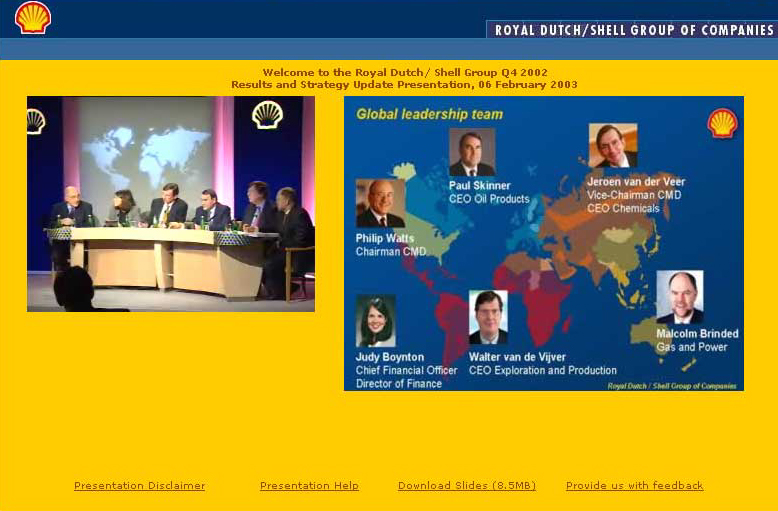 [2003] Number 10 
Working closely with Westminster Digital, Tornado provided webcast hosting, delivery and reporting for Number 10 during critical announcements, including the Iraq war announcement.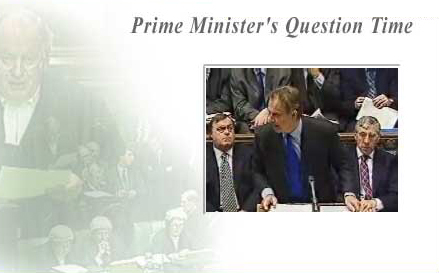 [2001] Penguin 
Tornado created an interactive format, filmed, designed, built and delivered an innovative offering for marketing books, including defining a business model to support ongoing production.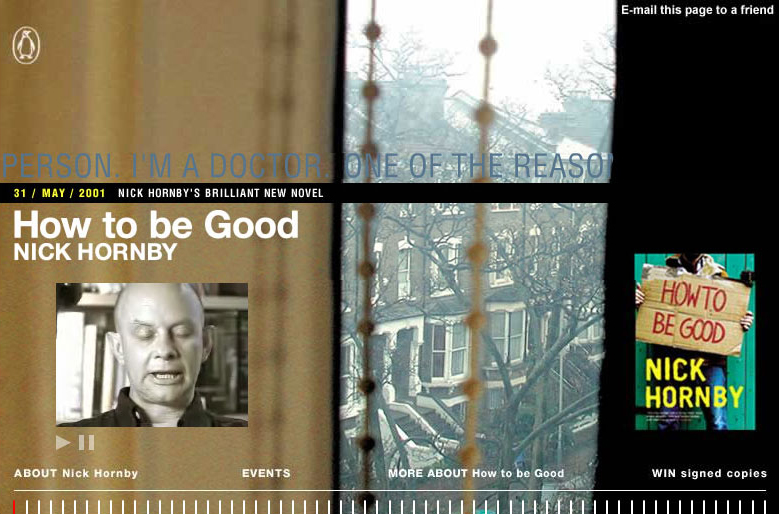 Eminem in concert & backstage
Brand
Tornado's brand won a D&AD "Best of British" award