Given the number of times that people/startups ask me for insights about team-building (and the fact I'm building upon them with Icebreaker One under lockdown conditions) I thought I'd try and build up some writing on the subject.
For context, I've created and co-created dozens of businesses. I covered some areas of ODI processes in my Nesta report  (Can Government stop losing its mind?) The ODI experience itself built on a long history of trial and error (mostly the latter) — ODI was where I felt we had the greatest scope (an open institute), time (5-years guaranteed funding) and the right size of budget (£2m/y) to help people fully explore different ideas, embracing the vast array of new tools, data, and shifts in cultural norms at play.
The right combination of scope, time, and budget was fundamental to the ODI's success.
Sir Jeremy Heywood, Gavin Starks, Sir Nigel Shadbolt at the ODI in 2016
To maximise team alignment, I recommend investing a huge amount in communications — both internal and external. At the ODI we invested more (in total) in communications than in R&D.
The ODI example, illustrated in the chart above, included:
Daily standups (mandatory for everyone, even if remote), max 15 minutes, everyone says one thing: this scaled to over 70 people. We made a 'robot' with a screen at head-height so that people dialling in were at the right height as well as passing around a laptop so people could see each other.
Weekly 1:1's with the startup team, evolving to direct line reports at scale. Shared Gdoc notes with each individual, confidential to just the two of you (30-60 min)
Weekly delivery/programme/function meetings (30-60 min).
Fortnightly whole-team meeting (2 hours, no pre-set agenda). Let people bring or unpack the things we're missing, then go for lunch as a team.
Six-weekly board meetings: not monthly (too rapid), not quarterly (to slow).
Quarterly offsites: everyone for 2 days. Day 1 reflect, work out what you want to stop doing. Day 2, plan for the next 12 weeks only. Codify plan.
Biannual review: refactor budgets and targets based on facts
Annual budget: set targets for the next 12 months.
Yes, you can do a standup with over 70 people in under 15 minutes (note the robot's screen on the left in front of the curved meeting room)
Plan for 12 weeks – is that all?
Very few people can make a 12-month plan and stick to it in most areas. Setting an annual target and thinking in 12-week sprints is much easier. It doesn't mean 'start-stop' juddering every 12-weeks, but one critical outcome is you can create the opportunity to formally stop (or pause) doing something that isn't getting traction. Halting conditions are as important to delivery as driving to hit targets.
Without exception, prior to any company offsite, many people would complain that they "didn't have the time" to take 2 days out, and—uniformly—afterwards reflect that "that was so valuable" to help reflect, prioritise and reconnect.
As part of our Offsite Day 2, we'd use a tool (Trello cards) to codify deliverables, breakdown to tasks, assign teams, define dates. One rule was every card had to have a title containing a verb.
My observation (over ~20 years of running companies) is that team alignment has a half-life — about 12-weeks is all it takes for people to find, dig and dig-in to silos. A 12-week plan help create an intervention in that cycle.
Using the Trello API, and titles with verbs, we could be really succinct and clear about what people were doing and their targets.
Below is a copy of what was a public web page detailing everything the organisation was working on and its progress completed. We also had screens (ODI TV) around the office with key project summaries, project data — and messages to visiting delegations — updated on a rolling basis.
This is the snapshot after the end of the year and you can see many things didn't get done, were 'halted' or missed. We didn't hide this, we featured it. You can see in the data below that the % of things everyone thought they would do went down by about 10% between Q1 (83%) and Q4 (72%). This is not because we became 'less good' but … the size of the team doubled.
My interpretation and observations were that with a larger team, people's perception of what they could achieve went up, but that increasing team size is non-linear to delivery capacity. The year prior, with a smaller team, the year before, delivery was over 90%.
Publishing what you are doing in the open can seem terrifying, but done well it can be adrenalising and motivating to the entire organisation. In the ODI's case, it let to exponential growth.
We also published our progress against our targets openly, for example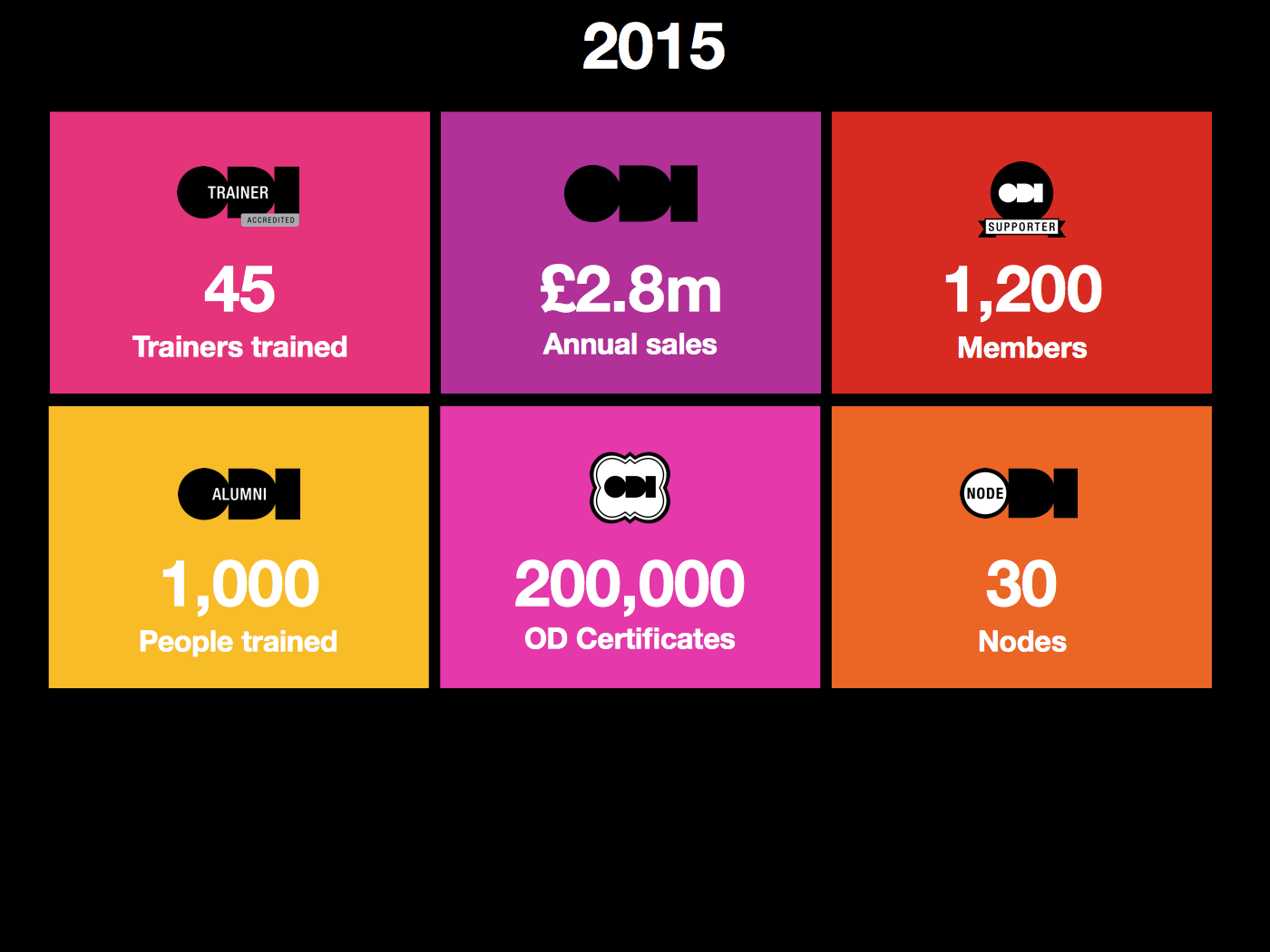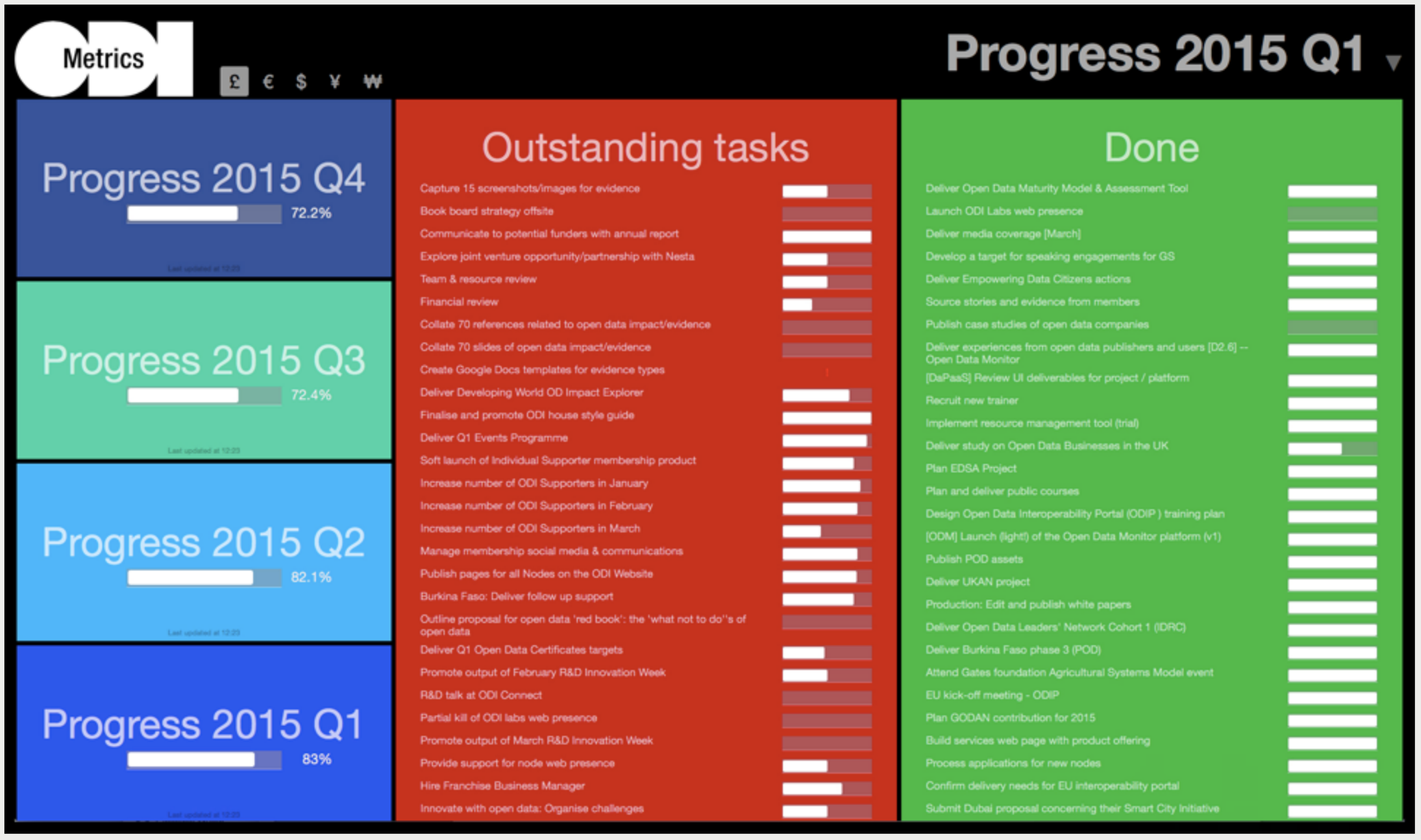 If you are developing your own organisation, start with a question: what is the right combination of scope, time, and budget?